Digital transformation is vital to all businesses regardless of their size or market position.
It is imperative to the success of all companies and applies to small businesses right up to full scale global enterprises. It is not always entirely clear what digital transformation actually is, which leads us to this article to give a clear overview and also to explain the number one requirement for digital transformation – cultural transformation.
What is digital transformation?
Digital transformation is the adoption of new technology throughout your business which helps to improve the way people, systems and processes work. Companies can achieve digital transformation by adopting new technology frequently as it becomes widely available. The term 'staying ahead of the curve' resonates well in this area. An example of digital transformation is adopting Cloud computing-based services which reduce the need for specific hardware solutions, require less IT staff and also solves large investment issues which smaller companies may face.
Leading ways to adopt digital transformation
Cloud based services
Through the emergence of cloud-based services becoming more widely available and more cost effective to businesses, the benefits from integrating these services into current IT infrastructures has become increasingly popular and a good way to solve modern IT issues within companies. Cloud based services not only provide a more efficient way of accessing your company IT network but also provide a reduction in overhead IT costs due to less hardware such as servers being needed in order to support an on-premise solution.
Cloud based managed IT services including cloud backups, cloud migration and secure and reliable cloud storage are widely available to businesses as well as affordable ERP software solutions which are hosted in the cloud. Affordable cloud-based ERP gives smaller companies a great way to run and grow their business in the same way many corporate giants have done.
Cloud based solutions usually come as a monthly cost and provide smaller businesses with the opportunity to capitalise on new technology in an affordable way. This allows those smaller businesses to provide better offerings for their customers and for their employees alike which allows them to promote growth.
Artificial Intelligence (AI) & Internet of Things (IoT)
The use of Artificial Intelligence (AI) and the Internet of Things (IoT) has become an increasingly interesting topic and is becoming popular amongst businesses in order for them to better their products, services or internal operations.
AI has been successfully implemented into many different aspects of business operation. Modern enterprise resource planning (ERP) software utilises AI capabilities to provide complete data visibility. Data is analysed through AI, providing your workforce with important data insights which will help to make better and more informed decisions throughout the business, thus resulting in higher profit margins directly from less human errors, less resources wasted and a reduction in overheads. AI can also be utilised to better predict resource availability and demand for certain products or services which allows you to improve planning and resource allocation throughout your entire operation.
The emergence of new and ever more capable IoT devices has allowed many companies to provide better customer experiences. Within field services, where companies send out technicians to fix or repair products or machinery, IoT devices can provide assistance to field technicians, allowing them access to resources and communicate with ever growing ease.
Why adopt digital transformation in your business?
Many companies adopt digital transformation in order to remain competitive within their respective markets. As your company's competitors better their offerings, the need to stay ahead and keep customers is critical, and the use of such technology is helping to do that. Being able to solve complex issues with new technology is vital in helping businesses to adapt to industry changes and remain competitive with others in the same space. Solving these issues also allows your business to reap benefits including reduction in costs, reduction in errors and improved efficiency throughout.
Why can't you have digital transformation without cultural transformation?
Cultural change within a business is vital to introducing digital transformation. Without your employees' support, changes you make to your business operations may not show the results expected.
Getting your staff on board with digital transformation can be a challenge in itself. Making changes which make your employees jobs easier to do with the help of technology would seem like a no-brainer, but people don't always like change and many like to do things "the way they have always been done".
As the decision makers are not always the everyday users of new technology, it's important to involve staff, and let them see that their views and opinions are considered. Sufficient training is key, especially with new technology that is introduced into employees' everyday roles.
Looking to start your digital transformation journey?
The coronavirus pandemic has been the biggest disturbance to business for a century. However, it has also spurred on digital transformation, with more automation and artificial intelligence being used to help run business.
If you're looking to start your digital transformation journey, get in touch today to find out about cloud hosting from our Managed IT Services, or how ERP software can give you the competitive edge with complete visibility.
Call on 01384 400 600, email info@syscom.co.uk, or complete a contact form below.
Related Links
Next Article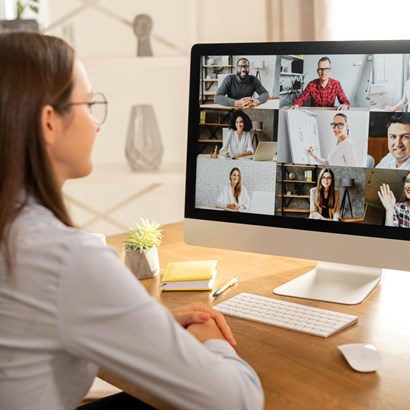 May 24 2022
How Can Managed Security Services Support Your Business in a Post-Pandemic World?
Read More