Boasting a worldwide £7.4 trillion per year worth that is forecast to jump a further £11 trillion by 2030, only a fool would underestimate the significance of the construction industry in the global economy. Yet experts still doubt the longevity of the construction sector without a sizable investment in transforming internal technology – hence a predicted explosion of construction management software such as ERP. 
So, with national recovery resting on its shoulders, can Dynamics 365 aid in elevating every aspect of the construction experience to the level needed? In a business that demands intense physical labour, can construction planning software lower business insurance and improve worker morale costs that traditional approaches to risk management previously could not? By embracing the benefits that ERP construction scheduling software can bring to the future, the construction industry can broaden its horizons and start to sketch a roadmap for its place in the future digitised world. 
We walk through the ways in which construction enterprise resource planning (ERP) tackles the pressing issues of risk reduction and budgeting to streamline your data and keep your construction business on the cutting edge of the trade:
What are the unique challenges everyday construction projects have to juggle?
The three classical elements contractors have to wrestle are time, scope, and budget. Upper management constantly must anticipate a variety of obstacles that could compromise the fluidity of these features. In an industry said to be one of the highest to still rely on paper-based or legacy systems, grappling with any of the following will prove to be troublesome without the aid of digitisation. Operational efficiencies are being challenged by: 
Unclear Contractual Obligations
A lack of communication is often a death sentence for any contractor relationship. Limited levels of transparency can result in poor planning, reworks, duplication errors, supply chain bottlenecks, and a shortage of accountability. Just one of these issues is enough to cause a halt in operations, but layering them together and adding the presence of multiple third parties - you have a logistics nightmare. Precious time and resources will be spent solving these administration errors, an energy that could be put to much better use elsewhere. 
Even smaller-scale construction projects could involve up to 70 third parties, so relying on personal information silos is a good way to create confusion. An integrated and holistic one-party system is the perfect way to funnel everything into the information silo so that every party involved - from project leaders to corporate liaisons - can have on the fly updates about the status of the projects. This leaves a lot less room for error and allows figures within the system to have a stronger rapport in their contractual obligations.
Inaccurate Data
Without a centralised construction management system, you are leaving the entire infrastructure vulnerable to incorrect data that could bubble up into worrying results. It is estimated that without a modernised business suite, order processing time could take up to 25% longer. Feeding other parties outdated data regarding processes has a higher chance of litigation risk. Allocating the right tasks at the right time is essential to navigating the complex maze that comes with the unpredictability of the construction industry.
Near-Miss Reporting
Human error inevitably comes into focus if you regularly deal with a labour-intensive workforce. Slips, trips, falls, operating malfunctions, and other near injuries can come back to haunt you if not documented and logged into the system correctly. However, due to a high-demand worksite, experts often find such occurrences are not properly recorded in the system, setting up a disastrous likelihood of problems in the future. A rapid transformation of near-miss reporting would be needed to innovate this industry dilemma.
What solutions can construction management ERP endow your site with?

Get The Complete Picture
With the level of visibility that Dynamics 365 offers every stakeholder from every angle a clear and intelligent itinerary about every piece of information can be created. From genesis to completion, project status, financial information, and resources regarding your construction project become readily available. Your team can make real-time risk evaluations to improve operations and prevent hiccups. As a positive side effect, this live tracking improves team collaboration - making you a more efficient unit.
Secure The Supply Chain To Mitigate Risk
Thanks to the sophisticated level of coordination that construction management software is able to provide, you can streamline all your supply chain data together in one place. Armed with the knowledge of leveraged business intelligence and predictive analytics you can make informed decisions with a live feed of your supply chain to mitigate risk in an intelligent fashion. The tools ERP software provides can give you a bird's eye view of the entire supply chain with the ability to smartly zoom a spot to a potential risk before it develops into something more.

Deal with Disputes
Construction ERP software is the modern and reliable way to help project managers understand procedural aspects of contracts and deal with internal/external disputes without stretching the budget on time or finances. In their 2022 report, Arcadis postulated that, on average, at least 50% of construction firms face at least one dispute per year that is estimated to cost at least £250,000. Arcadis also assessed the global value of construction disputes at $30.1 million: a 21% decrease from 2021. The cause for this decrease is up for speculation, but industry insiders theorise a jump to digitised management has a part to play. The risk of corroding profitability and margins can become outdated as mismanaged information, unsubstantiated claims, and incomplete drafts will be resolved in a timely and cost-efficient manner. Dynamics 3365 gives project leaders access to the right information at the right time.

Purge Unimportant Data
Instant reporting and improved safety compliance can enable you to shrug off unwanted data entries. Construction ERP will automatically update the budget through the accounting system to save hours and prevent all the human error that comes with legacy systems. Retyping data will become a thing of the past. Construction ERP can reduce the risk of data entry error, up productivity, and reduce administrative hours.
Manage With Mobility
Something that legacy business suites are unable to offer is the ability to access the project from anywhere. This is where ERP contractor management software can play a role. Portability can open the door for a slicker way of open communication. Workflows can be enhanced with mobile and web form apps that let your team submit forms on smartphones, tablets, laptops, desktops, and more.
Mobile cloud-based software lets employees know that they're getting live updates from suppliers, instantly downloads, then secures forms and documents in their latest incarnation and updates them in real-time with the system via notifications. Having such an efficient and singular source of information facilitates smarter decisions that run less risk. Construction ERP can keep your bottom line safe in a way that building information modelling (BIM) cannot. The process can be enlightened as emerging trends can be spotted, all while keeping every member in sync regardless of location.
Want to learn more about how Dynamics 365 can help with risk reduction on your construction projects?
We can help construction companies to use Dynamics 365 to make better decisions and manage projects successfully. If you would like to learn more about how you can achieve this get in touch with us today, call on 01384 400 600, email info@syscom.plc.uk or submit a contact form below. 
Next Article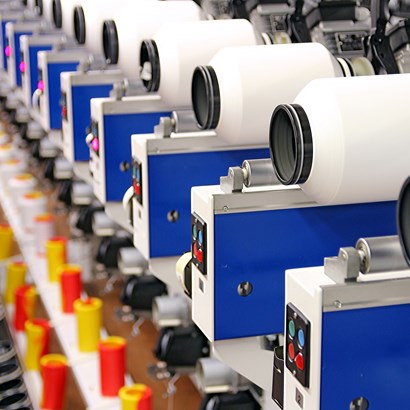 June 13 2022
7 Incredible Innovations ERP Systems are bringing to the Textile Industry
Read More