With businesses uncertain when their workforce can return to normal operations, they are trying to find ways to improve their capabilities of working from home.  Although many platforms are being used to effectively manage these challenges, we are going to look at how cloud computing capabilities and services are helping to improve businesses ability to remain efficient while working from home.  
What is cloud computing?
Cloud computing is essentially being able to deliver computing services which could include storage, databases, networking and software via the internet opposed to these services being available from a computer's hard drive. This can provide many benefits, and is becoming more commonly used as the capabilities cloud services can provide improve and expand. 
Three types of cloud computing
 deployment
Public Cloud
Public clouds are owned and maintained via third-party IT service companies who provide cloud services. With the Public Cloud, the hardware, software and supporting infrastructure used is owned by this IT service provider who then allows other businesses to access these services at a cost. This is usually a cheaper option for businesses and may attract small to medium sized companies who cannot afford the costs related to the other types of cloud deployment.  
Private Cloud
Private clouds typically refer to cloud services being made available through a single business or provider which could be physically located on site, or a third-party IT provider can host private clouds for other companies. In short, private clouds are maintained on private networks which host the services and infrastructure. Private clouds provide higher levels of security for organisations but require full migration of IT infrastructure.  
Hybrid Cloud
Hybrid clouds combine public and private cloud capabilities through allowing data to be shared between the two types of clouds. Hybrid clouds provide the most flexibility with far more deployment options available to help optimise your existing infrastructure and security. Hybrid clouds are more favourable for companies who are not yet ready to completely migrate their IT systems to the cloud but wish to make use of their existing on premise set up with cloud capabilities.  
How cloud computing services can enhance the ability to work from home
Productivity
Utilising cloud services can provide sizeable productivity gains for your remote/home workforce. Cloud services enable your workforce to do their job from home or any other location as long as they have internet access. This allows them to access everything that they would be able to access while in the office, through a secure service. Cloud subscription services can also be useful to departments wanting to enhance the collaboration between their team members, for example Microsoft Teams allows your employees to securely and effortlessly collaborate with one another. 
To see how Microsoft Teams could help improve your company's performance, see our recent article which explores the functionality and features available to help your business excel.  
Cost
Cloud services have made working from home more affordable for even smaller companies with limited IT budgets. So having a predominantly remote/home workforce for the foreseeable future provides all sized companies with the opportunity to reduce their IT costs in the process. This is due to expensive equipment including hardware such as servers and certain software not being needed on-site to ensure their companies IT infrastructure. Companies will also see a reduction in costs due to less electricity being used on site to power hardware which may not seem like a drastic change but for a large-scale company, this figure can add up rapidly. Staffing costs can also be reduced due to less staff being needed to maintain  IT equipment. 
Increased security 
Many cloud platforms provide high levels of security policies and technologies which helps to secure your home workforce. Despite there being many questions raised around the security of cloud based solutions, many security measures are made available and can actually improve a company's overall IT security and reduce their risk. This includes user specific passwords, data encryption, anti-virus and specific measures in the event of mobile devices such as laptops and mobiles being stolen or lost.  
Cloud computing services usually provide a level of encryption for accessing important or confidential documents, which is useful to many different industries. This can not only improve the security of your files against external threats, but permissions can also be given to certain individuals within your organisation so that only they can access that information.  
Secure VPN's (Virtual Private Networks) provide users with a secure connection to your office network whether they are working from home or from a remote location.  
Interested to find out how a move to the cloud could support your business and employees to run remotely? 
To discuss your options, give our friendly team a call on 01384 400 600, email us at info@syscom.plc.uk or submit a contact form below. 
Next Article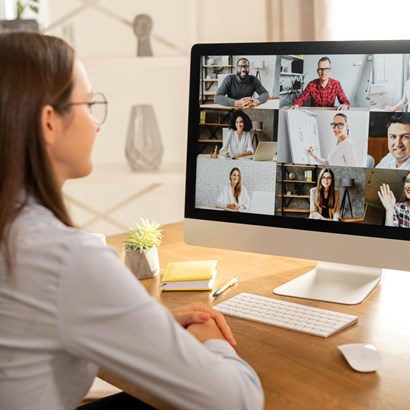 May 24 2022
How Can Managed Security Services Support Your Business in a Post-Pandemic World?
Read More