Microsoft Teams is rapidly becoming one of the most used platforms ever produced by Microsoft. With thousands of businesses worldwide utilising the capabilities it provides, it has become apparent that Microsoft Teams provides much more than first meets the eye. We will explore a range of different functionality that Teams provides to its users.  
Firstly, a brief overview - Teams works with Teams and Channels. Teams are a group of people, and the conversations, files and tools they need to get their job done. Within a Team are Channels – which are sections specifically for a project, topic, discipline. For example, a Marketing department could have a Marketing Team with specific channels for social media or events, or a Finance Department could have their own Team, with channels for different budgets or projects. 

So, w
hat
 are the
 benefits
 of
 Microsoft Teams
?
Improved Productivity
Businesses can capitalise on improved productivity gained from the functionality available in Microsoft Teams. The features available not only help employees become more productive but also provide a simpler approach to many tasks.  
Teams integration with Office apps means that colleagues can collaborate by working on a document at the same time – with no need to switch between apps. This removes the confusion of different versions of documents being emailed backwards and forwards.  
Similarly, Teams can integrate with many third-party apps alongside the Microsoft office apps. This means you can work from one app, with no need to exit to complete other tasks. Every user can customise their workspace, choosing which apps they require for their roles.  
 

Improved Communication
Microsoft Teams is integrated with many different communication tools including calling, chat, video conferencing and screen sharing. 
The Chat functionality allows for more than a quick message between colleagues. Direct from the chat window, you can file share, audio or video call and set up a meeting. Chats can be 1-to-1 or with a group of people. Employees who use the chat feature also get the benefit of a reduced inbox, freeing up time spent managing a busy inbox. 
You are also able to '@' any member of your organisation throughout each area of Teams, which not only sends a notification to that member alerting them to check, but also registers in the activity section for reference.  
As Teams is a cloud-based platform, you can stay connected even when away from your desk. The phone app allows you to join meetings, respond to chat messages, and access documents remotely. 

 

Improved Organisation
Using Planner functionality, Microsoft Teams allows users to organise their daily activities with 'tasks', which can be assigned to an individual or several people. Each task keeps all of the necessary information all in one place for that particular job – manage a checklist, allocate a deadline, assign team members to contribute, track progress, attach files and links and add comments so that everyone in your team know exactly what's going on.  
The integration with SharePoint is great for helping employees to stay organised, as all files shared across the platform, including chats, will be automatically be saved.  


Easy 
To
 Use
Teams uses all the Microsoft programmes and apps that your employees are most likely used to using on a daily basis. This includes the Microsoft Office suite of business applications like Word, Excel, PowerPoint and more. This means that any employees new to the Teams platform can transition very quickly, without having to get used to new software. 


Want to know more?
Contact us today for more information on how Microsoft Teams could benefit your business.  Syscom provide Teams, and support, as part of our Managed Microsoft 365 offering. For more information, email us on info@syscom.plc.uk, call us on 01384 400 600 or submit a contact form below. 
Next Article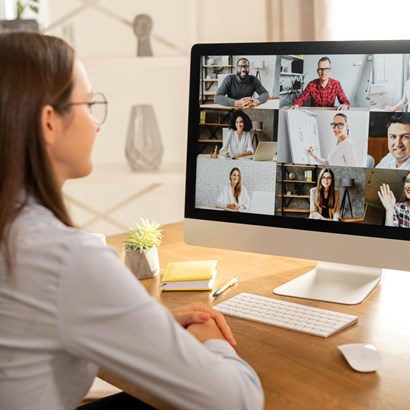 May 24 2022
How Can Managed Security Services Support Your Business in a Post-Pandemic World?
Read More